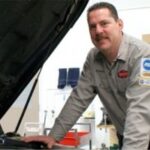 Jeremy Wolfson
ASE Certified Master Mechanic
ASE Certified Advanced Level Specialist
Wolfson Automotive LLC, located in North Phoenix, is owned and operated by Jeremy Wolfson. Jeremy has been involved in the automotive service industry for over 30 years. He holds ASE Certifications as a Master Automobile Technician and is also an ASE Certified Advanced Level Specialist. Working at various dealerships and shops over the years, Wolfson learned not only how to refine his technical skills but also how customers need to be treated if they are to become repeat customers.
Owner Jeremy Wolfson began honing his "wrenching" skills with lawnmowers and go-karts at around age 9 and performed his first engine overhaul on a 1964 VW Beetle at the age of 12. Since that time, his interest in automobiles has never waned. His first experience in the service business was his lawnmower repair business that he ran out of his parents' home garage, beginning at age 11. Wolfson quickly learned what customers appreciate when they hire a service person or company.
At Wolfson Automotive LLC, we may ask you a lot of questions about your car and its service history. It's the same as a doctor taking a history on a patient; we need your input to either help us diagnose that strange, intermittent noise or to help us make accurate recommendations on service needed. When we determine what work your vehicle needs, we believe you deserve a thorough explanation of what is needed and why it's needed, along with an accurate quote for the work. We do not believe in talking "over our customer's heads" with technical jargon. We want you to actually understand what we're saying, which is why we try to gear our explanation to your knowledge level. We also treat a customer's car like it's our own car; to us, that means no greasy footprints on the carpet or greasy fingerprints on the steering wheel.
We want our customers to leave our shop feeling pleased with the work done on their car, satisfied that the price they paid was fair, and happy enough that they want to come back to us when they need service again.
For more information or to schedule an appointment, please contact us today.
Full service auto repair in Phoenix.
| Day | Hours |
| --- | --- |
| Monday | 8:30 am to 5:30 pm - by appt. |
| Tuesday | 8:30 am to 5:30 pm - by appt. |
| Wednesday | 8:30 am to 5:30 pm - by appt. |
| Thursday | 8:30 am to 5:30 pm - by appt. |
| Friday | 8:30 am to 5:30 pm - by appt. |
| Saturday | closed |
| Sunday | closed |