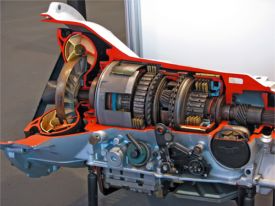 Heat is an automatic transmission's worst enemy.  Many people don't realize that even when operated at normal temperatures, automatic transmission fluid breaks down (from heat) and if it's not flushed on time, the result is  damage to your transmission.  At Wolfson Automotive LLC, we are certified in Automatic transmission service and repair.  We have the proper equipment to perform a complete fluid flush of your transmission as well as the skills to perform a complete overhaul if and when you need one.  Other shops that "drop the pan" to "change" the fluid, are
only changing about one third of your old fluid, leaving most of your dirty or contaminated fluid inside your transmission.  Get it done right at Wolfson Automotive LLC.  Pulling a trailer?  Let us install an auxiliary transmission oil cooler so your transmission doesn't overheat and fail prematurely.
Full service auto repair in Phoenix.
| Day | Hours |
| --- | --- |
| Monday | 8:30 am to 5:30 pm - by appt. |
| Tuesday | 8:30 am to 5:30 pm - by appt. |
| Wednesday | 8:30 am to 5:30 pm - by appt. |
| Thursday | 8:30 am to 5:30 pm - by appt. |
| Friday | 8:30 am to 5:30 pm - by appt. |
| Saturday | closed |
| Sunday | closed |