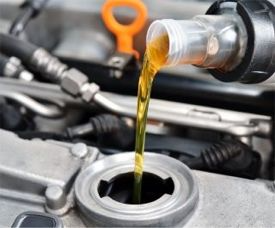 Changing your engine's oil and filter is probably the single most important maintenance item on your car.  Unfortunately, it is also neglected or postponed by many car owners and the consequences are costly.  Car manufacturers all want to "prove" to prospective buyers and owners that their models are the least expensive to maintain.  One common tactic is to advertise that oil changes are only "needed" every 7,500 miles.  Most experts in the automotive repair industry agree that this is too many miles to drive between oil changes.  By promoting long intervals between oil changes, the manufacturer not only achieves lower
perceived maintenance costs, they also ensure that you'll probably need to replace your vehicle sooner and they hope to have your repeat business.  For most vehicles and driving conditions, we recommend an oil and filter change every 3,000 miles if you're using conventional oil and 5,000 miles for synthetic.  Vigilance on your oil changes will pay off handsomely.  Wouldn't you rather pay $50 to $100 for an oil change a few times per year rather than several thousand dollars for us to rebuild your engine?  Would you like to drive your car over 150,000 miles without major engine repairs?  Your chances of doing so will increase dramatically with regular oil changes.  When you bring your car to Wolfson Automotive LLC for your oil changes, you are having the work done by an ASE Certified mechanic.  When we change your oil, we also perform an under vehicle inspection and we can spot small problems before they become big.  Why not have a professional change your oil instead of a high school kid at the quick lube place ?  
Full service auto repair in Phoenix.
| Day | Hours |
| --- | --- |
| Monday | 8:30 am to 5:30 pm - by appt. |
| Tuesday | 8:30 am to 5:30 pm - by appt. |
| Wednesday | 8:30 am to 5:30 pm - by appt. |
| Thursday | 8:30 am to 5:30 pm - by appt. |
| Friday | 8:30 am to 5:30 pm - by appt. |
| Saturday | closed |
| Sunday | closed |