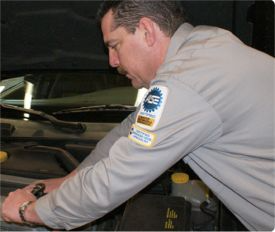 Owning an automobile is an expensive proposition.  If you'd like to keep your operating costs low, keep your vehicle reliable, and greatly increase its life expectancy, it is imperative that you stay current on recommended maintenance.  At Wolfson Automotive LLC, we can take care of all of your vehicle's maintenance requirements.  We also have a huge database that lists the manufacturer's maintenance intervals for virtually any make or model of vehicle.  If you're not sure what maintenance you need or when it is due, please contact us and we'll look it up for you.  If the thought of a surprise vehicle breakdown does not thrill
you, just stay current on your car's maintenance schedule  and you are far less likely to have unpleasant surprises.  At Wolfson Automotive LLC, we can provide you with a helpful car maintenance checklist so you know what important services your car needs and when they are due.
Full service auto repair in Phoenix.
| Day | Hours |
| --- | --- |
| Monday | 8:30 am to 5:30 pm - by appt. |
| Tuesday | 8:30 am to 5:30 pm - by appt. |
| Wednesday | 8:30 am to 5:30 pm - by appt. |
| Thursday | 8:30 am to 5:30 pm - by appt. |
| Friday | 8:30 am to 5:30 pm - by appt. |
| Saturday | closed |
| Sunday | closed |