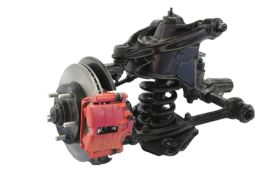 What's that clunking noise when I go over a bump?  At Wolfson Automotive LLC, we can expertly diagnose your steering and suspension systems.  Many items in your vehicle's suspension and steering systems are crucial to safe operation and predictable handling –especially in emergency situations.  Neglecting worn chassis components can eventually lead to catastrophic failures and a complete loss of vehicle control while driving.  If something doesn't feel or sound right, or you kow you
are having car suspension problems, don't take a chance; have your suspension checked by our ASE Certified experts at Wolfson Automotive LLC.
Full service auto repair in Phoenix.
| Day | Hours |
| --- | --- |
| Monday | 8:30 am to 5:30 pm - by appt. |
| Tuesday | 8:30 am to 5:30 pm - by appt. |
| Wednesday | 8:30 am to 5:30 pm - by appt. |
| Thursday | 8:30 am to 5:30 pm - by appt. |
| Friday | 8:30 am to 5:30 pm - by appt. |
| Saturday | closed |
| Sunday | closed |